One can learn a lot by studying family photographs; the Low Family Portrait is no exception.
Read more…
Leong-Yau Chan, also known as Yushan Chan, was born in China in the 1900s. Hereceived a his bachelor's degree at Peking University in 1921 then came to the U.S. and completed at masters program at NYU in the 1930.
Read more…
While the Chinese Exclusion Act of 1882 was the first law to bar an immigrant group solely on the basis of nationality, related acts passed over the next several decades served to tighten exclusionary laws against Chinese.
Read more…
积极相应MOCA Spike 150的跑步活动,五四青年节那一天,普林蚱蜢越野群与岚山近二十位越野大侠们在纽约州的熊山(Bear mountain State Park)疯野了整整一天。此次熊山越野赛事由户外运动品牌The north Face (北脸) 领衔主办,比赛分为50英里(80公里), 50公里, 马拉松和马拉松接力,其中最难也最具挑战的熊山五十英里(八十公里)赛事,全程累积爬升6880英尺(约2100米),周六凌晨五点至傍晚七点,十四个小时的关门时间,404名参赛者中,只有336名最终完赛。
Read more…
Yesterday, May 10, 2019–on the 150th anniversary of the Transcontinental On Sunday, April 28th, Julia Zeng and Sherry Sun joined Nancy Yao Maasbach, the President, and Yue Ma, the Director of Collections & Research of MOCA and comprise the MCOA Spike 150 relay team at the 2019 Novo Nordisk New Jersery Marathon, running a 26.2 mile race and finishing at 3 hours 48 mintutes 29 seconds.
Read more…
In this painting, I attempted to encapsulate the history of how Chinese migrant workers were exploited to build the first trans-continental railroad yet were barred from taking advantage of the benefits it offered. Branded as "perpetual foreigners" by widespread anti-Chinese sentiment, many of these migrant workers became victims of violent racism, riots, and massacres and were often forced to take refuge in the first American Chinatowns. As a result of xenophobic conditions, the Chinese Exclusion Act restricting all Chinese immigration to the United States passed in 1882, just a little over a decade after the planting of the golden spike in 1869.
Read more…
President Abraham Lincoln signs the first Pacific Railroad Act on July 1, 1862, the first concrete step by the federal government to provide support for the transcontinental railroad. 1862年7月1日,亚拉伯罕•林肯总统签署了第一部《太平洋铁路法》,这是联邦政府为支持横贯大陆铁路建设而采取的第一步实质性的支持。
The Transcontinental Railroad was one of the Pacific Railroads. It started construction in 1863 and was completed on May 10, 1869 横贯大陆铁路是太平洋铁路线之一。它始建于1863年,于1869年5月10日竣工。
Read more…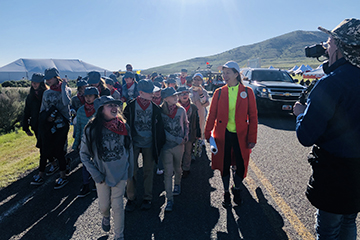 Yesterday, May 10, 2019–on the 150th anniversary of the Transcontinental Railroad completion, I was at Promontory Point in Utah. When I walked passed a large group of young children dressed with railroad conductor hats and blue and white pin stripe railroad uniforms, I asked them if they were going to perform a song in honor of the 150th Anniversary. They replied in happy unison, "yes!" This group was the Utah Children's Choir. I asked them if they knew that the Chinese helped build the railroads. They replied even more energetically and in triumphant unison, "yes!!!" An hour later they would perform a piece titled "As One" that would move the audience of over 15,000 visitors on this special anniversary date.
Read more…
为了纪念华人为建设这条铁路所做出的巨大贡献,美国华人博物馆(MOCA) 隆重推出MOCA Spike 150: Running Forward With Our Stories!这个历时数月的公益活动自新年开始,至11月3日纽约马拉松推向高潮。其中的标志性活动Spike 150 线上接力跑,在5月10日150周年宣布起跑,以跑团为单位,每周接力,连续25周,至纽马终点线结束。期待凝聚全美各地的华人跑团為公益而跑,彰显在美华人的历史及其保存展示的重要性!也希望借着这次的主题活动,改变过去媒体中对华人的刻板形象,用奔跑的脚步讲述属于我们自己的故事!
Read more…