Ah Quin (1848-1914) was an exceptional figure during the early days of Chinese immigration to the U.S.
Read more…
The Mee Heung Chow Main Company on 75 Mott Street was incorporated in 1928. The company signified not only a shop but a vibrant way of life in New York City's Chinatown.
Read more…
Quong Yuen Shing & Co., also known as the 32 Mott Street General Store, was Chinatown's longest continuously operating store before it closed in 2003.
Read more…
President Abraham Lincoln signs the first Pacific Railroad Act on July 1, 1862, the first concrete step by the federal government to provide support for the transcontinental railroad. 1862年7月1日,亚拉伯罕•林肯总统签署了第一部《太平洋铁路法》,这是联邦政府为支持横贯大陆铁路建设而采取的第一步实质性的支持。
The Transcontinental Railroad was one of the Pacific Railroads. It started construction in 1863 and was completed on May 10, 1869 横贯大陆铁路是太平洋铁路线之一。它始建于1863年,于1869年5月10日竣工。
Read more…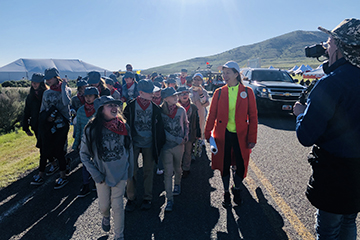 Yesterday, May 10, 2019–on the 150th anniversary of the Transcontinental Railroad completion, I was at Promontory Point in Utah. When I walked passed a large group of young children dressed with railroad conductor hats and blue and white pin stripe railroad uniforms, I asked them if they were going to perform a song in honor of the 150th Anniversary. They replied in happy unison, "yes!" This group was the Utah Children's Choir. I asked them if they knew that the Chinese helped build the railroads. They replied even more energetically and in triumphant unison, "yes!!!" An hour later they would perform a piece titled "As One" that would move the audience of over 15,000 visitors on this special anniversary date.
Read more…
为了纪念华人为建设这条铁路所做出的巨大贡献,美国华人博物馆(MOCA) 隆重推出MOCA Spike 150: Running Forward With Our Stories!这个历时数月的公益活动自新年开始,至11月3日纽约马拉松推向高潮。其中的标志性活动Spike 150 线上接力跑,在5月10日150周年宣布起跑,以跑团为单位,每周接力,连续25周,至纽马终点线结束。期待凝聚全美各地的华人跑团為公益而跑,彰显在美华人的历史及其保存展示的重要性!也希望借着这次的主题活动,改变过去媒体中对华人的刻板形象,用奔跑的脚步讲述属于我们自己的故事!
Read more…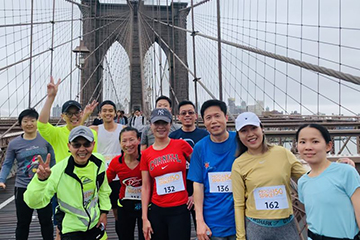 "Our memory is made up of our individual memories and our collective memories. The two are intimately linked. And history is our collective memory. If our collective memory is taken from us - is rewritten - we lose the ability to sustain our true selves." ~Haruki Murakam
Read more…
Let's re-create this Chinatown mini marathon back in 1976! The country just had its bicentennial. Long summers. Black outs. Roller skates. Platform shoes. Charlie's Angels. Star Wars. Who knew running was a thing in '70s Chinatown!
Read more…
Leading up to the NJ Marathon, Half Marathon, and Marathon Relays on April 28th, a few passion-driven official NJM pacers have organized a 5-week training program free of charge to the incoming runners. Two sets of distances and routes are designed for every of the five weekends, customized to fit runners' training progress, for both full and half marathon participants.
Read more…